In December 1900, Nikola Tesla was asked by the Red Cross to predict man's greatest possible achievement over the next century. The letter below was his reply.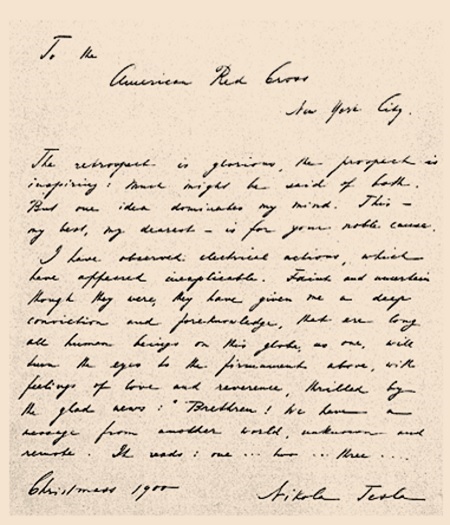 1900
No comment here is the transcript of the letter:
To the American Red Cross, New York City.
The retrospect is glorious, the prospect inspiring: Much might be said of both. But one idea dominates my mind. This – my best, my dearest – is for your noble cause.
I have observed electrical actions, which have appeared inexplicable. Faint and uncertain though they were, they have given me a deep conviction and foreknowledge that ere long all human beings on this globe, as one, will turn their eyes to the firmament above, with feelings of love and reverence, thrilled by the glad news: "Brethren! We have a message from another world, unknown and remote. It reads: one… two… three…"
Christmas is you
Nikola Tesla
---
Many interpret Tesla's predictions so that he heard messages from space that he "heard" during his experiments in Colorado Springs, so they interpret this as Tesla's prediction and prophecy about the bishop's encounter with beings from space in the near future.
There is also a scientific explanation of the sounds recorded by Tesla, but we leave it to the experts in space technology.